TOWN HISTORY: Before 1850 there was no Hyde Park—it was only a series of five drumlins (hills formed by glaciers). Blueberry bushes, pine trees, and birches were all that adorned these hills. Settlers soon began to trickle into the neighborhood and the end of the Civil War brought a surge of growth. (Read More)
ELECTED OFFICIALS:
President of the United States: George W. Bush
Vice President of the United States: Dick Cheney
Senators in the US Senate: Edward M. Kennedy, John F. Kerry
Representative in the US Congress: Open Seat: Primary, September 11. General Election, October 16,
Michael E. Capuano
Governor of the Commonwealth of Massachusetts: Jane Swift
Secretary of State: William F. Galvin
Attorney General: Thomas F. Reilly
Treasurer / Receiver General: Shannon P. O'Brien
Auditor: A. Joseph DeNucci
State Senator: Brian A. Joyce
State Representatives: Thomas M. Finneran, Angelo M. Scaccia

ELECTED CITY COUNCILORS: Daniel F. Conley, District 5
COMMUNITY GROUPS & LINKS:
City of Boston Web site - View this site to find out everything about Boston. This site includes fire, police and other important numbers.
Hyde Park Community Center - 1179 River St., 617-635-5178
Hyde Park Branch / BPL

SPORTS & RECREATION:
Complete list of Hyde Park's parks and open spaces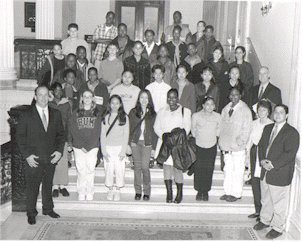 Students from the William Barton Rogers Middle School in Hyde Park come to the State House every year.
SCHOOLS:
Elementary
Elihu Greenwood, 612 Metropolitan Ave., 617-635-8665
Franklin Roosevelt, 95 Needham Road, 617-635-8676
Henry Grew, 40 Gordon Ave, 617-635-8715
William Channing, 35 Sunnyside Street, 617-635-8722
Middle School
William B. Rogers, 15 Everett St., 617-635-8700
High School
Hyde Park High School, 655 Metropolitan Avenue, 617-635-8948

Private Schools:
The Lt. Joseph P. Kennedy Memorial School
LOCAL NEWS:
Bay State Banner, 68 Fargo St, Boston, 02210, P:617-357-4900
Boston City Paper, 65 E. Cottage St, Dorchester, 02125, 617-282-9272
Boston Connections Magazine, PO Box 303, 24 Regis Rd, Readville, MA. 02137 617-722-9422
Boston Globe
Boston Herald, 1 Herald Sq., 02106, 617-426-3000
Boston Irish Reporter, 304 Neponset Ave., 02122, 617-436-5275
Boston Parent's Paper, 670 Centre St., JP, 617-522-1515
Boston People's Voice, PO Box 940, 554 Washington St, Boston, 617-265-9989
Boston Phoenix, 126 Brookline Ave., 02215, 617-536-5390
Boston Tab, 254 2nd Ave., Needham, 781-433-834
Hyde Park / Mattapan Tribune, PO Box 6, 395 W. Broadway, South Boston, 617-268-3440
Mass High Tech
Parkway Transcript, 254 2nd Ave, Needham, 02494, 781-433-8384