Jamaica Plain
TOWN HISTORY: Originally part of Roxbury, Jamaica Plain was included in West Roxbury when it became independent in 1851. It was annexed to Boston in 1873. During the 19th century, transportation developments transformed Jamaica Plain from a farming community into a suburb. (Read More)
ELECTED OFFICIALS:
President of the United States: George W. Bush
Vice President of the United States: Dick Cheney
Senators in the US Senate: Edward M. Kennedy, John F. Kerry
Representative in the US Congress: Open Seat: Primary, September 11. General Election, October 16
Governor of the Commonwealth of Massachusetts: Jane Swift
Secretary of State: William F. Galvin
Attorney General: Thomas F. Reilly
Treasurer / Receiver General: Shannon P. O'Brien
Auditor: A. Joseph DeNucci
State Senator: Brian A. Joyce, Dianne Wilkerson
State Representatives: Elizabeth A. Malia, Kevin W. Fitzgerald
City Councilor: Maura Hennigan, Ward 10, Precincts 6-9, Ward, 11 Precincts 4-10, Ward 19, Precincts 1-6, 8,9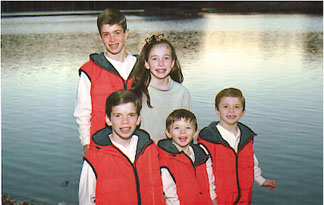 Jake, Mikey, Maggie, Jimmy, & Andrew at the Jamaica Pond.
COMMUNITY GROUPS & LINKS:
Aircraft Noise Action Committee
Connolly Branch / BPL
Jamaica Plain's Community Home Page
A good listing of Clubs available in JP
Jamaica Plain Branch / BPL

Jamaica Plain Community Centers
Jamaica Plain Historical Society, PO Box 2924, 617-524-5992
Agassiz Community Center, 20 Child St, 617-635-5191
English High Community Center, 144 McBride St, 617-635-5244
Hennigan Community Center, 200 Heath St, 617-635-5198
Curtis Hall Community Center, 20 South St, 617-635-5193
Adult Learning Program @ English High, 617-635-5201
Regional Office, Curtis Hall, 617-635-5194
City of Boston Web site - View this site to find out everything about Boston. This site includes fire, police and other important numbers.
SPORTS & RECREATION:
Jamaica Pond - is conveniently located on the Jamaica Way and Perkins Street.
Arnold Arboretum - 125 Arborway, 617-524-1718
Franklin Park Golf Course, 617-265-4084
Franklin Park Zoo, (within Franklin Park), 617-541-5466
SCHOOLS:
ELC West Zone (K-1), 200 Heath St, 617-635-8275
Agassiz (P-5), 20 Child St., 617-635-8198
James W. Hennigan (K-5), 200 Heath St., 617-635-8264
John F. Kennedy (K-5), 7 Bolster St., 617-635-8127
Joseph P. Manning (P-5), 130 Louders Lane, 617-635-8102
Margaret Fuller (K-5), 25 Glen Road, 617-635-8221
Young Achievers (P-6), 90 Smith St., 617-635-6805
James M. Curley (K-5), 40 Pershing Rd., 617-635-8239
Middle School
Mary E. Curley (6-8), 493 Centre St., 617-635-8176
High School
English High School, 144 McBride St., 617-635-8979
Private Schools:
Blessed Sacrament Elementary (1-8), 30 Sunnyside, 617-522-1870
Hollow Reed School (P-6), 93 Sedgewick, 617-524-4881
Neighborhood School (K-4), 34 Peter Parley Rd., 617-522-0880
Our Lady of Lourdes (K-8), 54 Brookside Ave., 617-524-6136
St. Andrew Elementary (1-8), 86 Wachusett, 617-524-7733
Parkside Christian (K-6), 215 Forest Hill Rd., 617-522-1841

LOCAL NEWS:
Bay State Banner, 68 Fargo St, Boston, 02210, P:617-357-4900
Boston City Paper, 65 E. Cottage St, Dorchester, 02125, 617-282-9272
Boston Connections Magazine, PO Box 303, 24 Regis Rd, Readville, MA. 02137 617-722-9422
Boston Globe
Boston Herald, 1 Herald Sq., 02106, 617-426-3000
Boston Irish Reporter, 304 Neponset Ave., 02122, 617-436-5275
Boston Parent's Paper, 670 Centre St., JP, 617-522-1515
Boston People's Voice, PO Box 940, 554 Washington St, Boston, 617-265-9989
Boston Phoenix, 126 Brookline Ave., 02215, 617-536-5390
Boston Tab, 254 2nd Ave., Needham, 781-433-834
Jamaica Plain Arts News, PO Box 3, JP, 02130, 617-323-5261
Mass High Tech
Jamaica Plain Citizen, PO Box 6, 395 W. Broadway, South Boston, 617-268-3440
Jamaica Plain Gazette, PO Box 1139, 7 Harris St., JP, 617-524-2626
Parkway Transcript, 254 2nd Ave, Needham, 02494, 781-433-8384