TOWN HISTORY:
Settled one month before Boston in 1630, Dorchester grew along an Indian trail leading to summer fishing grounds by the harbor and on the islands. The first settlers established themselves on the hills: Popes Jones, Savin, and Ashmont. Today, the two oldest houses in Boston remain in Dorchester, and there are more than a dozen pre-Revolutionary War buildings in existence here. (Read more)

ELECTED OFFICIALS:
President of the United States: George W. Bush
Vice President of the United States: Dick Cheney
Senators in the US Senate: Edward M. Kennedy, John F. Kerry
Representative in the US Congress:

Open Seat: Primary, September 11. General Election, October 16, Michael E. Capuano

Governor of the Commonwealth of Massachusetts: Jane Swift
Secretary of State: William F. Galvin
Attorney General: Thomas F. Reilly
Treasurer / Receiver General: Shannon P. O'Brien
Auditor: A. Joseph DeNucci
State Senator: Brian A. Joyce, Stephen F. Lynch, Dianne Wilkerson
State Representatives: Thomas M. Finneran, Martin J. Walsh, Marie P. St. Fleur, Shirley Owens-Hicks, John A. Hart, Jr.

ELECTED CITY COUNCILORS: Maureen E. Feeney, District 3, Charles Yancey, District 4, Charles Turner, District 7

City Councilors At-Large: Peggy Davis-Mullen, Michael Flaherty, Stephen J. Murphy, Francis "Mickey" Roache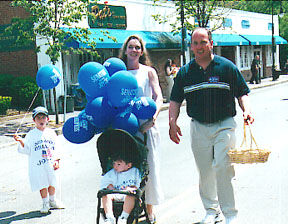 (My family walking in the Dorchester Day Parade)
Adams Street Branch / BPL
Ashmont Hill Association
Bird Street Community Center
City of Boston Web site - View this site to find out everything about Boston. This site includes fire, police and other important numbers.
Codman Square Branch/BPL
Columbia-Savin Hill Civic Association
Dorchester Board of Trade
Dorchester Arts
The Dorchester Historical Society
Fields Corner Branch / BPL
Lower Mills Branch/BPL
Melville Park Association
Murphy Community Center
Strand Theatre
Uphams Corner Branch / BPL
Shawmut MBTA Station Renovation Project

SPORTS & RECREATION: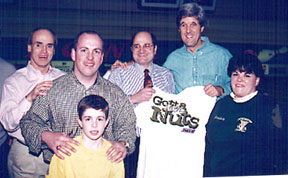 Pop Warner Schedule
With Speaker Finneran and Senator Kerry helping to support the Dorchester YMCA.
SCHOOLS:
Elementary Schools
ELC East Zone (Kindergarten only), 370 Columbia Road, 617-635-8604
Edward Everett (P-5), 71 Pleasant St., 617-635-8779
Emily Fifield School (K-5), 25 Dunbar Ave., 617-635-8618
John P. Holland, 85 Olney St., 617-635-8832
John Marshall School (K-5), 35 Westville St., 617-635-8810
John Winthrop School (P-5), 35 Brookford Rd., 617-635-8379
Lucy Stone (K-5), 22 Regina Road, 617-6358773
Mather School (P-5), Meeting House Hill, 617-635-8757
OW Holmes School (P-5), 40 School St., 617-635-8681
Patrick O'Hearne School (P-5), 1669 Dorchester Ave., 617-635-8725
Paul A. Dever School (P-5), 325 Mt. Vernon St., 617-635-8694
Pauline Agassiz Shaw (P-5), 429 Norfolk St., 617-635-8719
Roger Clap School (K-5), 35 Harvest St., 617-635-8672
Sarah Greenwood School (K-8), 189 Glenway St., 617-635-8710
Wm E. Endicott (K-5), 2 Mclellan St., 617-635-8648
William E Russell (K-5), 750 Columbia Rd., 617-635-8803
William Monroe Trotter (P-5), 135 Humboldt Ave., 617-635-8225
Middle School
Frank V. Thompson Middle School, 100 Maxwell St., 617-635-8674
Grover Cleveland Middle School, 11 Charles St., 617-635-8631
Martin Luther King, Jr. Middle School, 77 Lawrence Ave., 635-8212
Woodrow Wilson Middle School, 18 Croftland St., 617-635-8827
High School
Dorchester High, 9 Peacevale Rd., 617-635-8904
Boston Latin Academy (7-12), 205 Townsend St., 617-635-9957
Jeremiah E. Burke High School, 60 Washington St., 617-635-9837
Private Schools
Berea SDA Academy (K-8), 800 Morton St., 617436-8301
St. Ann Elementary (1-8), 239 Neponset Ave., 617-825-6262
St. Ambrose Elementary (K-8), 23 Leonard St., 617-825-9400
St. Brendan Elementary (1-8), 29 Rita Rd., 617-282-3388
St. Gregory Elementary (K-8), 2214 Dorchester Ave., 617-296-1210
St. Mathew Elementary (1-8), 29 Stanton Rd., 617-825-7955
St. Margaret Elementary (1-8), 790 Columbia Rd., 617-282-5621
St. Mark Elementary (1-8), 197 Centre St., 617-282-2577
St. Peter Elementary (1-8), 284 Bowdoin Rd., 617-282-8573
St. William Elementary (1-8), 100 Savin Hill Ave., 617-265-7110
Boston College High School, 150 Morrissey Blvd., 617-436-3900

LOCAL NEWS:
Ashmont Outlook, 25 Harley St., Dorchester, 617-265-8570
Bay State Banner, 68 Fargo St, Boston, 02210, P:617-357-4900
Boston City Paper, 65 E. Cottage St, Dorchester, 02125, 617-282-9272
Boston Connections Magazine, PO Box 303, 24 Regis Rd, Readville, MA. 02137 617-722-9422
Boston Globe
Boston Herald, 1 Herald Sq., 02106, 617-426-3000
Boston Irish Reporter, 304 Neponset Ave., 02122, 617-436-5275
Boston Parent's Paper, 670 Centre St., JP, 617-522-1515
Boston People's Voice, PO Box 940, 554 Washington St, Boston, 617-265-9989
Boston Phoenix, 126 Brookline Ave., 02215, 617-536-5390
Boston Tab, 254 2nd Ave., Needham, 781-433-834
Dorchester Argus Citizen, PO Box 6, 395 W. Broadway, South Boston, 617-268-3440
Dorchester Community News, 1454 Dorchester Ave., Dorchester
617-282-3543/288-5563
Dorchester Reporter, 150 Mt. Vernon St., Suite 120, Dorchester, 02125, 617-436-1222
La Semana, PO Box 850, Dorchester, 02125, 617427-6212
Mass High Tech